"If you have a garden and a library you have all you need."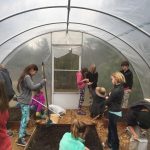 This week found the 6th and 4th graders replanting the hoop house with salad greens. They read directions for planting depth and spacing and labeled the rows. Maturity for the greens is 30 – 45 days so hopefully we will be able to harvest some for salad bar and to share at Grandparent's Day. The other picture is of Kiley helping the Kindergarteners pick out books from our wonderful library.
 Mr. Hansen came into sixth grade to "blow things up" as the students put it. As a trained chemist he was able to demonstrate a chemical reaction discussing the reactants and the products and their search for stability:)
The 7th graders are continuing to build their coral reef and finished the boulders. Next is making the coral and then the ocean bubble. Most have written their Romance on the Reef blogs – be sure to check them out!
The 8th graders are working on their rollercoasters. Their vocabulary is increasing daily without their even knowing it!
Next week is Terra Nova testing and more SCIENCE!